Team The Boyscouts on their jewelry & memories | Holiday season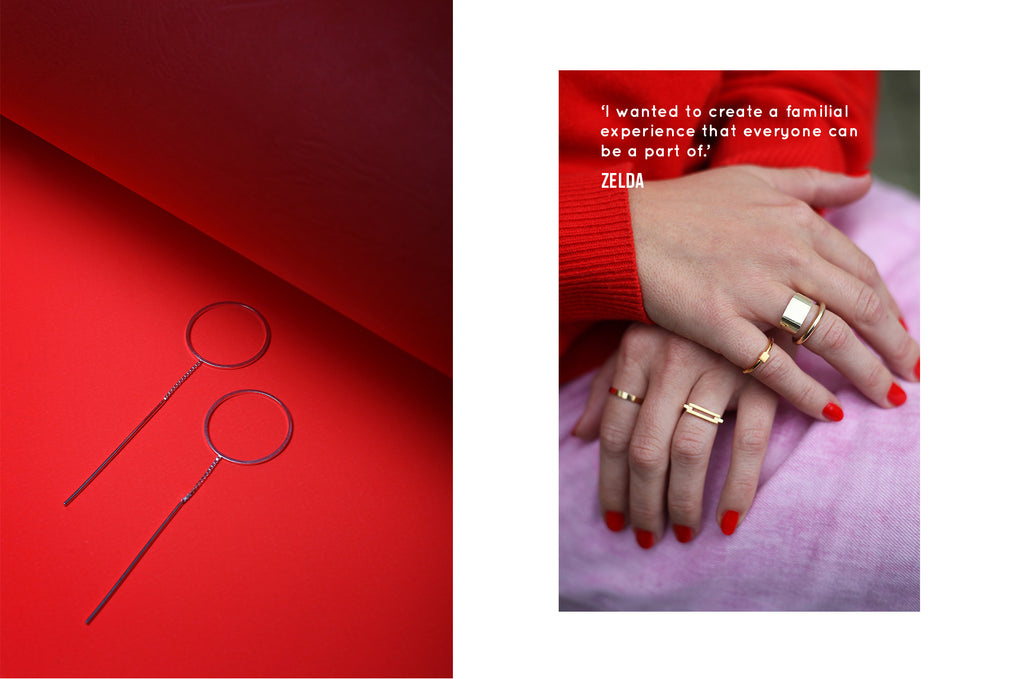 As far as we're concerned, the holiday season starts now. This time of the year we give each other gifts, commemorate over the year that's behind us and look forward to the future. Jewelry often represents a memory. That's why we, the The Boyscouts-team, share our memories that come with a particular trophy. Enjoy the read below.
If you like to gift a lasting memory this holiday season, you can find all of our treasures over here and enjoy free shipping and a longer return period.*
* More info at our FAQ page. 
Chloë
'When the Harvest Moon collection was launched The Boyscouts approached me for a collaboration on my blog. I created several images with five different items. Among them was the Convex ring. I've been wearing it ever since. It's like it has become a part of my uniform. It became a part of me.'
Shais
 'A colleague at my previous job often showed me her newest The Boyscouts treasures and I was impressed since the items seemed to go with everything. I went to the website and started to fill my shopping cart. Pretty soon I bought and wore my first few items. As if the universe was playing with it, a job vacancy came along as head of production at The Boyscouts. I applied and got the job. Ever since I work here I've been taking combining items rather seriously. I even got an extra piercing so I could wear more earrings at once. It's as if the shapes tell me to play with them. I simply can't resist. Everyone else is already wearing the items the way they were designed. So, why would I do that too? I've gathered quite the collection over the first year as a proud boyscout but I'm not attached to one item in particular. I'm way too superstitious for that.'
 
Lenny
'Through a mutual friend, Marieke, I met Zelda. At the time Marieke and I had a store together and the town was buzzing with news of Zelda starting her own jewelry label. From the moment she launched her first collection we were drooling over it. One day Marieke and I decided to pop by the The Boyscouts studio. We walked in and watched the goldsmiths at work. I stood there, admiring how the Trophy Square necklace was being made. Suddenly, Zelda said: 'that one's for you'. I was stunned and incredibly happy with the item. This was five years ago and I still wear it with pride. Even though I've gathered more items over the years, this one remains a classic for me.'  
Mirte
'I got my first job in Eindhoven at design agency Edhv. At one of their famous BBQ's I walked into Daphna Isaacs (part of designer duo Daphna Laurens). She wore the most incredible necklace. I was so drawn to it that I sat next to her and asked her about it. I kept staring at the triangle and hexagon shape and how they were connected gently with a chord. It instantly felt like the shapes represented my family. Somehow, it embodied how we are connected throughout life. Whether you're in the same room or not, we're always tied together albeit loosely;  a comforting thought to me. Even though it was love at first sight, I couldn't afford it at that time. But a year later, the necklace was still in the back of my mind and on a whim, I bought it anyway. This was six years ago and it's a treasure I still hold dear.'
Zelda
'My favorite trophy isn't for sale yet. It's part of the Spring Summer '18 collection. While designing the ring I fell in love with it instantly. I've long wanted to wear items in solid gold. The team figured: why not give this particular ring in solid gold? I got the present on my 38th birthday. Such a sweet surprise. We've had quite a tumultuous year with the brand, in a good way. And this day was one of those days when everything came together. Friends and family came to the studio, we put a table in our yard with pies and flowers and fruit. The kids were playing, later on we even started a little fire. I never started The Boyscouts for the sake of it just becoming another brand. I wanted to create a familial experience that everyone can be a part of. And it's in these moments I'm proudest of what we've achieved together.'